Because I want to. I have always wanted to build a craft designed specifically for what I need it to do. But a little story telling may provide more context…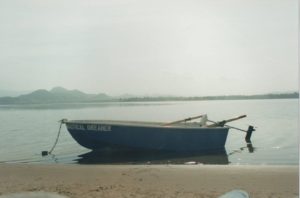 I decided I was going to be a marine biologist.  I was nine-ish.  Every marine biologist needs a boat.  I saved pennies and bought an ancient Sears Craftsman skiff out of the decrepit greenhouse in someone's back yard.  It had been cut in half, fiber-glassed back together, covered in 8 layers of house paint, then left to decay.  But she was mine.  I had a research vessel.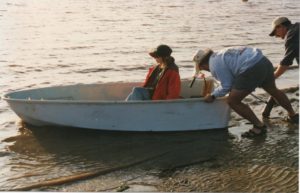 Bought a motor.  Hosed out the boat.  The first launch was a lesson in the value of safety gear and planning.  Battery died, I nearly got sucked out to sea, etc.
So I took thee to the local marine supply store.   Anchor, chain, lines, oars, marine air horn, cleats, oar locks, life jackets, a trip to the Coast Guard — now having prepped/educated myself properly, it was time to get the boat looking respectable.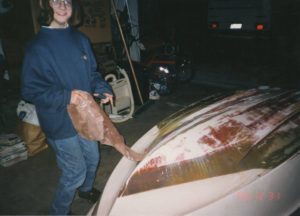 First layers of house paint sanded off, after chores and homework of course.  Getting down to the original Sears paint.  Then primed, painted, etc.  Dad learned not to use the power paint-sprayer next to the new BMW.   Aunt Deb visited and helped decorate the interior and stencil her name.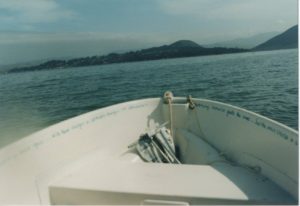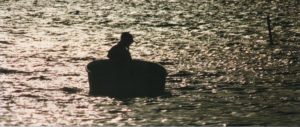 Second launch.  And many future voyages followed.   The boat lived in the "back bay" of Morro Bay, under the watchful eye of an off-the-grid poet by the name of Sandal.   Dad built a gear trailer for my bike, so I could load up motor/battery/gear and tow it down to the water to go out on my own.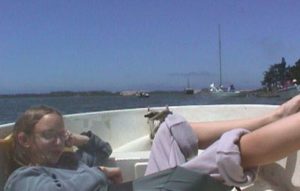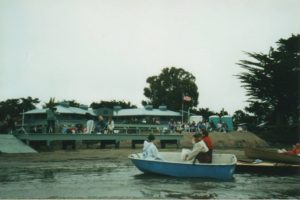 Myself on my own, I would do "research" with my hand-made plankton net, and then find a foggy spot in the middle of the bay to go turn off the motor, drift, read, commune with the otters and sea lions who nudged the boat to say hello.   But family and friends enjoyed going out with me too.  And it was my boat.  I wasn't old enough to drive, but I had my own research vessel.
Fast forward 24 years.  My boat is in perpetual dry dock in my parents' front yard.  I live 6000 miles away on an island in the Caribbean.
I've always had a soft spot for wooden boats.  A friend of mine, boat builder — for years we've kicked around the idea of building a cute little dory.   The mid 2016, time was right.   And the story unfolds from there.